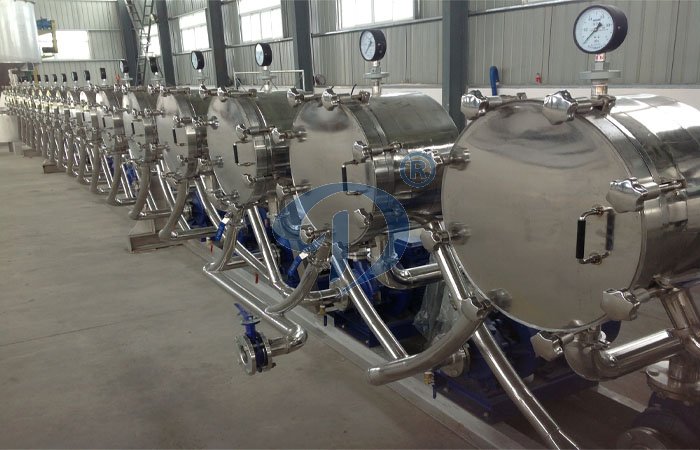 Multi-stage hydrocyclones
Multi-stage hydrocyclones description:
Multi-stage hydrocyclone unit is to remove soluble and insoluble protein, fine fiber, sugar and raw starch slurry, is a key equipment of concentration, washing and refinement process in starch production.It can guarantee a stable operation,reliable control,less water consumption and the target to avoid starch-runaway.
Multi-stage hydrocyclones advantages:
1.Single hydrocyclone tubes combination system,easy to change and cost saving.
2.Super stable conyrol system specially designed ensure higher product quality.
3.Completely made of stainless steel.
4.Self-developed and fabricated centrifugal pump with shrouded impeller,specially for tube starch processing.It has stable output and better performance.
5.Single cyclones is made of FDA approved material.
6.Mid-high pressure to obtain highest washing efficiency.
7.Optimum sealing structure ensures no leaking between comparments.
8.Different types of hydrocyclones could be selected for different materials,easier for operation and maintenance.
Main parameters of multi-stage hydrocyclones
Size

Model

A

B

C

D

YT-57

¢400

320

DN50

DN40

YT-81

¢460

320

DN65

DN50

YT-116

¢516

320

DN80

DN65
Application of multi-stage hydrocyclones
1. Sweet potato starch production line
2. Potato starch production line
3. Cassava starch production line
4. Corn starch production line
5. Wheat starch production line
If your browser can not play the video, you can change the higher version of the browser or download the video to the local broadcast.