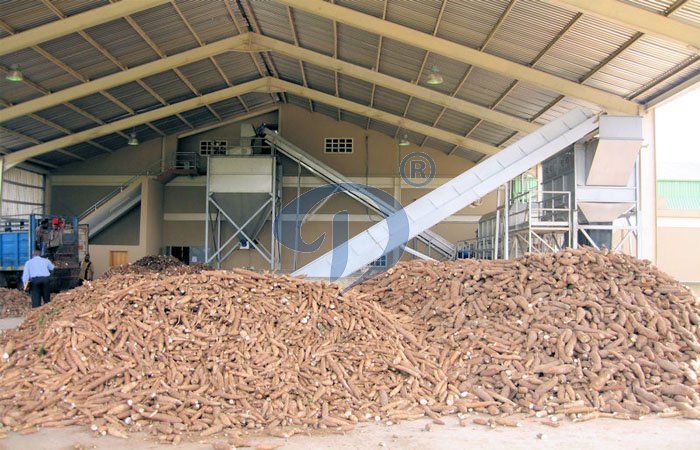 cassava flour producing plant
It is estimated that 30 per cent of the cassava tubers are lost as waste due to lack of processing and preservation mechanisms in Nigeria. One of the more acceptable means of preserving cassava, yam, plantain and others is to convert it to flour.
The traditional processing method is out modelled, laborious and grossly inefficient for mass production of quality cassava flour to satisfy the local demand by local industries and make room for the export market to earn foreign exchange.
The Federal Government has given flour mills and bakeries in Nigeria up to 10 months to transit from wheat to cassava flour as the major inputs in production According to 2016 budget; the federal government wants to continue with the development of cassava production and processing in the country.
As a result cassava flour producing equipment importation into the country is now duty free. Also importation of agricultural machinery & equipment will attract zero duty as well. The mandate to flour millers in Nigeria to have input of 10 per cent cassava flour in their production has been increased to 20 per cent. Many investors have started benefiting from the new policy.
Therefore 2016 will be a good year for investment into Agriculture.
In this investment profile, we discuss on how to make profitable investment into cassava production and processing into quality and internationally acceptable cassava flour.
Cassava flour is an acceptable among Africans, Asians and some other parts of the world as raw materials in bakeries. Just like Semovita, Semolina etc, it is also eaten as food by many. Pharmaceutical companies also use it as raw material.
Its processing increases its shelf life, adds value to the cassava tubers (from where it is processed) before being exported to enhance its economic value, reduces waste and cuts down the cost of transporting the product to longer distances compared with the heavy wet cassava tubers that are unprocessed.
---
---
Get Support or Price!
If you want to get more information and offer of the equipment,leave us message online,we will reply as soon as possible !