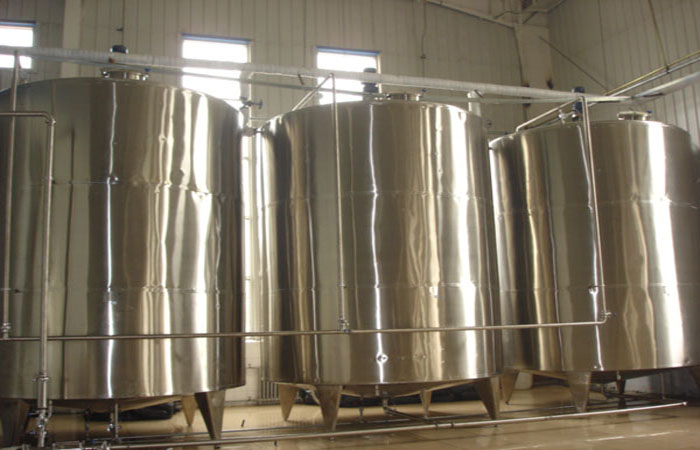 Fructose syrup storage tanks in fructose syrup plant
In the F42 fructose syrup production plant , the fructose syrup will can not sell out every day . So it will need some equipment to store the F42 fructose syrup in the fructose syrup plant to keep the fructose syrup purity and not crystallization before sale or transport to the buyer.
How to store the F42 fructose syrup in the fructose syrup plant ?
Here some advice for the storage of the Fructose syrup in the fructose syrup plant
1, In the winter, F-42 Fructose syrup maybe crystallization after stored a few days , although the crystallization of the product quality without any impact, but will increase the use of dissolved processing and other inconvenience. Therefore, it will need to store the fructose syrup in the insulation equipment . F-42 fructose suitable crystallization temperature of 5-10 ℃, crystallization temperature range of 20 ℃ below.
2, In the insulation equipment, F-42 fructose syrup storage temperature should be 25-35 ℃. If temperature below 20 ℃, with the extension of time, there is crystallization, or if temperature above 40 ℃, the fructose color with the time Of the extension and deepen, so it will need pay more attention to the temperature management work .
3, Fructose syrup should be stored in a cool, dry, ventilated venues. The optimum storage temperature is 25-35 ° C.
4, Fructose syrup should be handled with care during the transportation , it is prohibited to throw, hit, touch. Also need pay attention to rain, sun during transportation. Do not mix with harmful, toxic, corrosive substances and contaminants, mixed transport, mixed storage.
Our company can supply the complete glucose syrup plant and fructose syrup plant. We also supply the syrup storage solution to the buyer to help the buyer get more profit from the production .
---
---
Get Support or Price!
If you want to get more information and offer of the equipment,leave us message online,we will reply as soon as possible !