Cassava flour processing machine adopts wet milling process, do not add any additives .The cassava flour processing machine production process is mature technology , use advance payment , scientific process. The
cassava flour processing machine process
can be divided into several section: washing, grinding, desanding dehydration, drying, packaging. Each section of the cassava flour processing machine is connect to each other, the cassava flour processing machine can finished the entire production process automatically.
1. Cassava Washing and Peeling :
Washing and peeling processing is very important production section of whole set cassava flour processing machine. Because high impurity content will directly affect the quality of cassava flour . The cassava washing and peeling machine include : drum type cassava peeling and washing machine , it is mainly used to remove cassava peel and cassava surface soil ; cassava washing machine , it is used to remove sediment on cassava ; cage washer, it used for further washing cassava to improve the clarity of cassava, at same time it also has peeling effect. Generally speaking , in order to get more better washing and peeling effect , it need multiple machine working together .
2. Cassava Grinding :
The cassava flour grinding process of cassava flour processing machine is not same as cassava starch grinding process . Adding as little water as possible during the cassava grinding process . The crushed material is generally not filtered, to prevent loss of nutrients.
3. Cassava Slurry Desanding :
For improve the quality of final cassava flour , the desander cyclone is used to remove the sand inside of the crushed cassva slurry .
4. Cassava Flour Dehydration:
For getting dry cassava flour, crushed cassava slurry need dewatering first . The cassava flour processing machine dewatering machine has centrifugal dewater machine ( small-scale cassava flour processing machine) and scraper centrifuge( medium or large capacity cassava flour processing machine) . The dewatering machine is used to reduce the water content of material and improve the drying efficiency and quality.
5. Cassava Flour Drying and packing :
Drying cassava flour process is similar to cassava starch drying, it also can use air flow dryer . The hot air contact with wet cassava flour and take away the water inside of wet cassava flour quickly , After dring, the dry cassava flour will go through screening, the required fineness cassava flour can be directly packaged, the cassava flour below standard will be crushed again .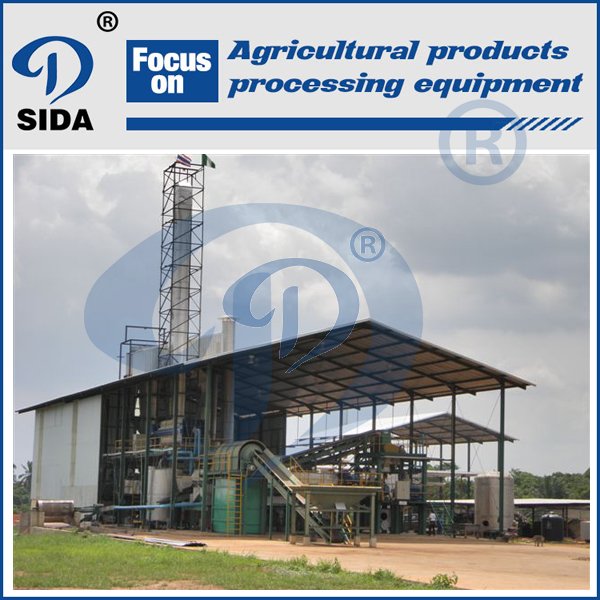 cassava flour processing machine