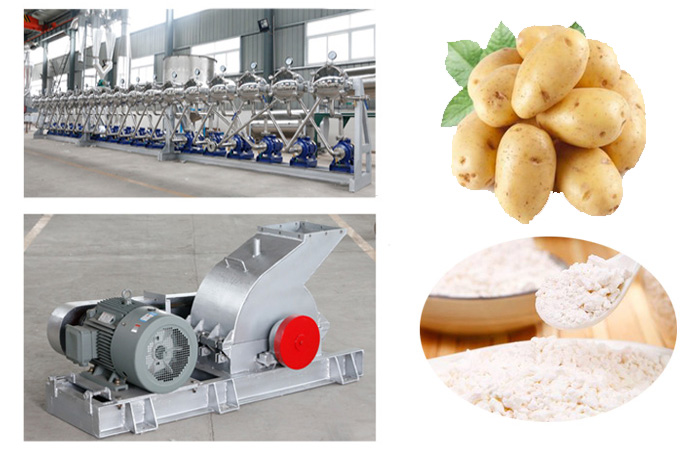 Potato starch processing equipment
Potato starch is starch extracted from fresh potatoes. The cells of the root tubers of the potato plant contain starch grains . To extract the potato starch by potato starch processing equipment , the potatoes are crushed; the starch grains are released from the destroyed cells. The starch is then washed out and dried to potato starch powder.
How to process potato starch by potato starch processing equipment ?
The potato starch production process of potato starch processing equipment include seveal steps : potato cleaning and washing , potato wet milling , potato starch extraction, starch milk refining, dewatering of refined starch milk and starch drying.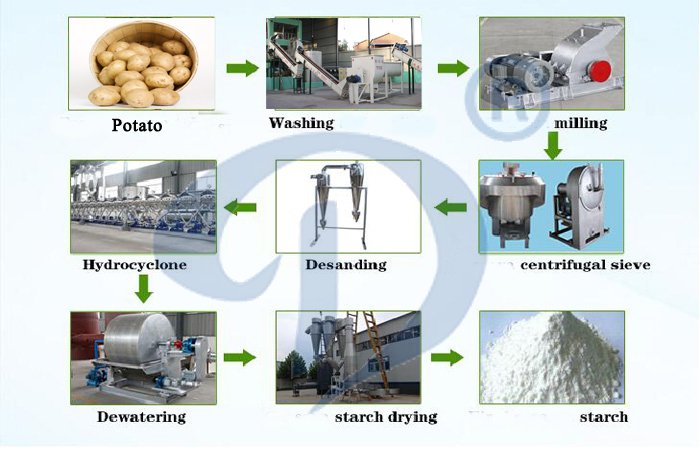 The complete potato starch production line
The description of potato starch production by potato starch processing equipment :
1. Potato cleaning and washing by potato starch processing equipment
The washing conveyor and the special designed washing machine will washing the fresh potato and remove the solid impurity ,such as sand ,small stone during the transportation .
2. Potato wet milling by potato starch processing equipment
The fresh potato is milled by the hammer mill with plenty of water to get the potato slurry. The purpose of the milling process is disruption of cell walls and release as much starch as possible for extracting potato starch .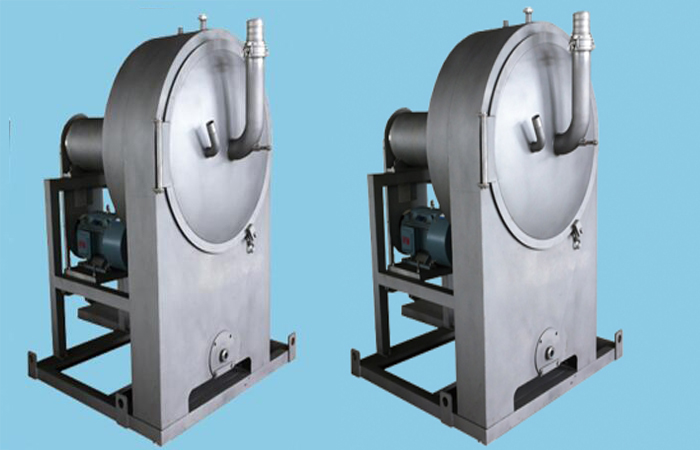 Potato starch processing machine
3. Starch extraction by potato starch processing equipment
The centrifugal sieves is used to separate the starch milk and the fiber for starch extraction .
4. Starch milk refining by potato starch processing equipment
For making high quality potato starch , raw starch milk will be purified in the refining process. This involves the removal of small fibers from the starch milk and then the removal of juice water and starch milk condensation. For this purpose, the hydrocyclones are commonly used. Refining and concentration starch milk by hydro cyclones is the advanced technology in nowadays.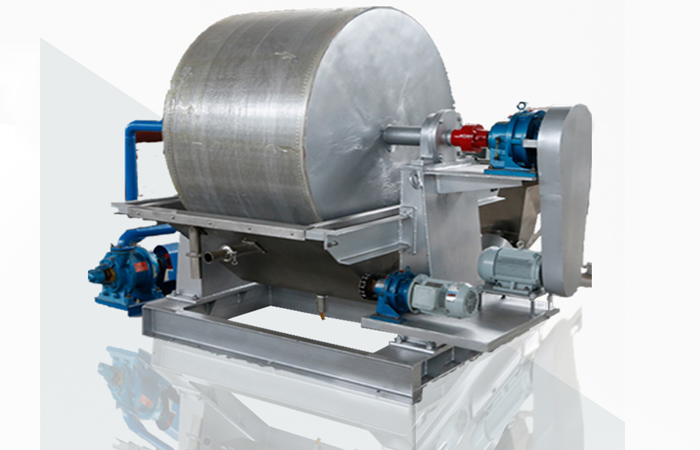 Potato starch dewatering machine
5. Dewatering starch milk by potato starch processing equipment
Dewatering starch milk is to remove the excess water by rotary vacuum filter, after dewatering , the wet potato starch with moisture content around 38% .
6. Starch drying by potato starch processing equipment
The potato starch drying machine will dry the wet starch with hot air in few seconds. Then, the starch is separated from hot air in cyclones. Due to short time of high temperature drying and intensive water evaporation from the starch granules, its surface is heated only to 40 °C. The potato starch after drying with moisture content around 13% .
Starch dryer machine
Above all is the simple introduction of potato starch processing machine,we could provide you the detail program according to your demand for potato starch processing plant,we also can provide you a perfect after-service systeam.To choose my company is to choose the success.
---
---
Get Support or Price!
If you want to get more information and offer of the equipment,leave us message online,we will reply as soon as possible !